Introducing Pixlr Touch Up: a Next-Generation Photo App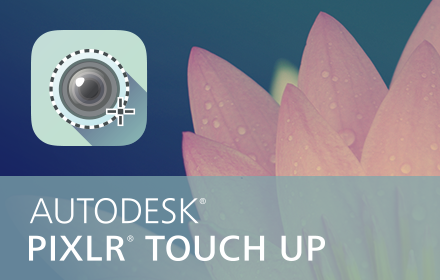 We're excited to announce Pixlr Touch Up, a next-generation photo app that Autodesk is building. It's free, it's available right now for Chrome OS and Windows Chrome users, and it does something unique to Pixlr — allows you to edit your photos both online and offline. Read on for a quick breakdown of what it is, what it can do, and how you can get started using it. Ready to install it? Download it now.
A technological innovation
For this project we gathered together a small team of sharp people at Autodesk to imagine a next-generation photo editor. Built on the Chrome App platform, Pixlr Touch Up throws out the idea of traditional, unwieldy, installable software for photo editing in favor of a lightweight, auto-updating, browser-based app. With today's launch as a starting point, our goal is to take advantage of the latest browser technology to deliver world-class photo editing techniques that anyone can use.
Work in your browser while offline
Web apps working when not connected to the internet? Yes indeed. Our Pixlr web and phone apps have been hugely successful, but one request Pixlr web users have voiced to us is the ability to use our web apps while disconnected from the Internet. That may sound like a crazy contradiction at first, but wouldn't it be awesome if you could use your browser to edit photos even when you're off the grid? With Pixlr Touch Up, you can.
Integrated with Google Drive
Google Drive is fast becoming the go-to storage space for millions of people who need a safe, effective (and free) way to store files in the cloud. If you've jumped on the cloud storage bandwagon you already know that using Google Drive to store your photos is a huge convenience, as well as a load off of your mind when it comes to making sure your photos are safe and secure. People are saving millions upon millions of images to Google Drive, but there hasn't been an easy way for people to edit those images. Pixlr Touch Up solves that problem by integrating Google Drive directly in the app.
The magic touch-up feature
We're kicking off this new app with a signature feature that will help you remove unwanted details from photos in a magical way. Don't want that creepy guy peeking into the frame of your vacation-at-the-beach photo? Pixlr Touch Up will remove the interloper and blend your background in a very smart way with the click of a button. Clip out power lines, snip out stray objects, and banish rabbit ears from behind the heads of junior high school students.
Chromebook's best friend
We love the fact that everyday consumers can buy a Chromebook for a few hundred dollars and take advantage of Google's apps to do just about everything. We especially love the idea of those same consumers having powerful Pixlr photo-editing tools at their disposal.
Who will want to start using Pixlr Touch Up?
If you're looking for a smart app to quickly get your photos just the way you want, you should give Pixlr Touch Up a try. If you use Google Drive, this is going to be an indispensable tool. If you are a Windows user who also uses Chrome, this is the offline photo editor you've been waiting for, and if you've got a Chromebook, this is right up your alley.
Where does Pixlr Touch Up go from here? 
Like most app developers, we are keenly interested in seeing how people use our apps and will use that data along with feedback and requests from the community to inform what may come next. So please let us knowwhat you think and keep watching this blog for more information.